Strategic Marine to Build Eight Crewboats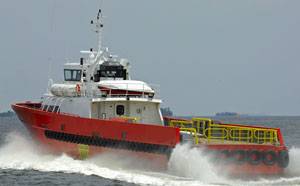 Australian shipbuilder Strategic Marine is making the most of the current high demand for offshore vessels in international shipping markets by building eight aluminum crew boats on a speculative basis.
In a move which is expected to boost its revenues by over $40m, the company will build six 40m vessels at its shipyard, and two 52m crew boats at its new Mexican yard at .
Western Australian marine services company Samson Maritime has already ordered two of the new 40m crew boats after signing a contract worth $9.8m.
The two utility vessels, which will be delivered in May and June next year, have top speeds in excess of 25kts and will be used by Samson Maritime to service its clients in the resource-rich Pilbara region.
Strategic Marine Director Ron Anderson said the company had decided to build 'on spec' because with four shipyards up and operating worldwide it had the added capacity to meet buoyant global demand from the offshore market.
He said the company had developed a great deal of expertise in the course of building a range of crew boats for its customers, while also evolving a series of highly specialised manufacturing process and techniques.
The yard is also expected to deliver three 22.1m crew boats to Dutch client SMIT International by the end of this year, as well as four 31m crew boats to 's Baruna Raya Logistics early next year.
The Mexican yard opened earlier this year after winning a US$13.35 million contract to build two 52m aluminum crew boats for Blue Marine's Pemex supply contract in the . Work on the two speculative vessels with the same specifications will get under way early next year.
Strategic Marine has received orders for around 130 vessels over the last two-and-a-half years, valued at more than $250m.
If, as expected, Strategic signs contracts for the remaining six crew boats it will build, the company's order book is likely to total close to $300m.