Singapore Straits Collision Sequel: LNG Ship Transfer Successful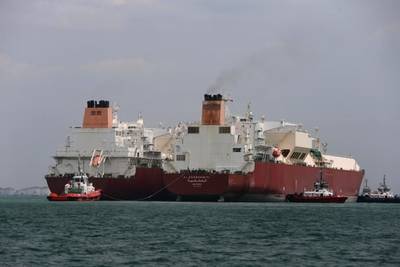 Qatargas say that their chartered LNG ships carried out the first ever transfer operation between two Q-Flex type ships following an incident involving one of the ships while transiting the Singapore straits. Whilst there were no reported injuries to personnel or impact on the environment, the incident did result in minor damage to the vessel.

Reinforcing Qatargas' paramount commitment to the safety of people and the protection of the environment the company says that rigorous planning, including formal Risk Assessment, were completed and approved by all concerned parties prior to the start of the Ship-to-Ship (STS) operations. 

The transfer of 211,000 M3 was conducted at anchor in open waters in Singapore utilizing specialized equipment and a contractor with LNG STS expertise.

Qatargas add that in line with its commitment to total customer satisfaction, various scenario options were considered and the STS operation was identified by them as a key element in ensuring that their commitments and obligations to their valued customers were met. This result was only achieved, they consider, through the collective and collaborative effort of all parties involved in the operation, and with the cooperation and support of Qatargas' customers.