Will an Unsteady Ship Affect Superbowl XLVIII?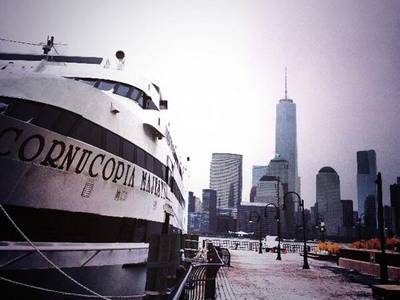 With the Superbowl around the corner, unusual maritime ties may play a role in the big game between the Denver Broncos and Seattle Seahawks.

As part of the press events leading up to Superbowl XLVIII, the Broncos held press conferences Sunday, Monday, Wednesday and Thursday aboard a 210-foot luxury cruise liner docked in the Hudson River outside the team's hotel in Jersey City, N.J.

On Wednesday and Thursday, in particular, the ship, Cornucopia Majesty, was very unsteady as it rocked from its moorings and raised some reports of seasickness while players and coaches conducted interviews.

Several of the players were quoted in various media reports, including:

Upon taking a seat, quarterback Peyton Manning asked, "Is this boat moving?" adding later on, "I wasn't prepared for the rocking cruise ship."

One reporter allegedly lost his breakfast on the third deck, and according to an ESPN report, several players said the bobbing vessel made them feel uncomfortable.

Bothered by the swaying, defensive tackle Terrance Knighton said, "I'm trying to be mentally tough right now, but it bothers me a little bit."

Cornerback Quentin Jammer said, "I don't like this at all."

Though the Broncos didn't appear to have their sea legs, receiver Eric Decker assured, "I'm ready just to get back to playing football and prepare myself to the best of my ability."