MES Tapped to Build "Neo Supramax 66BC" Ships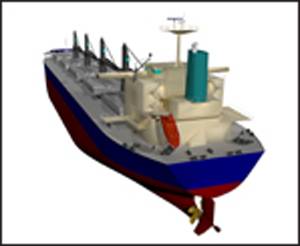 Mitsui Engineering & Shipbuilding was contracted to build two "Neo Supramax 66BC" ships, which are next-generation 66,000-dwt bulk carriers developed as low fuel consumption, eco-friendly ships.
Keeping the usability of MES' best selling 56,000 dwt type handymax bulk carrier (Mitsui 56) which achieved more than 170 contracts, this new and larger bulk carrier is expected to establish a new segment in bulk carrier market. Development of the ship's design was preceded by hearings from various owners and operators and investigations on more than 600 ports worldwide. This ship is designed to have over-Panamax beam (36m) and shallow draft in consideration of prevailing trade patterns and the expansion of Panama Canal in 2014.
Despite its larger deadweight and cargo capacity than Mitsui 56, neo Supramax 66BC achieves even less fuel consumption by adopting newly developed hull form and other energy saving equipment.
At IMO MEPC62 held from 11th to July 15, 2011 in London, implementation of new energy efficiency design index (EEDI) and actual restrictions on fuel consumption have been adopted. Oceangoing ships to be built now on will be required to satisfy a certain level of fuel consumption standard and the requirement will gradually become severer, therefore, existing ships will be replaced with ships with superior fuel consumption step by step. Neo Supramax 66BC's fuel consumption is far lower than the restriction level based on EEDI and is expected to benefit its users in long term under the future marine environment protection restrictions. The MES' achievement is a result of high valuation of neo Supramax 66BC's concept, superior energy efficiency and operational flexibility from wide beam, shallow draft design. The 2 ships are to be chartered by European major operator.
Special features of the new design include:
- Fuel consumption of the ship is less than the existing types of handymax bulkers.
- The ship is designed to have wide beam, shallow draft and deadweight of 66,000 metric tons, while keeping sufficient capacity for loading various bulk cargoes including coal, iron ore, wheat, barley, soya beans, etc.
- The ship can also accommodate lengthy/heavy cargoes such as steel pipe and hot coil.
- Hatch opening of the ship is optimized to meet the existing cargo handling facilities at various ports.

■ Principal Particulars of the Ship
Length, o.a. 200m
Beam (molded) 36m
Depth (molded) 18.5m
Deadweight abt. 66,000mt
Service Speed 14.5kts (NSR)