Mercy Ships Surgeon Gets AAOMS Award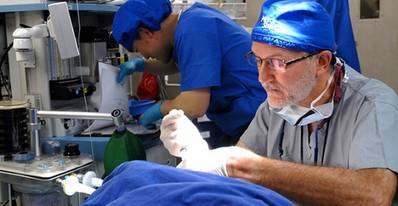 The American Association of Oral and Maxillofacial Surgeons (AAOMA) 2013 Humanitarian Award has been presented to Dr. Gary Parker of Mercy Ships in recognition of his lifelong efforts.
Gary R. Parker, DDS, received the AAOMS Humanitarian Award for Fellows and Members recently during the opening ceremony of the 95th Annual Meeting, Scientific Sessions and Exhibition of the American Association of Oral and Maxillofacial Surgeons (AAOMS) in Orlando, Florida.

"As I watched the flow of people boarding the Africa Mercy in search of a miracle, I had a better understanding of the satisfaction and joy that have bound Gary Parker and his family to this life of service," said AAOMS President Miro A. Pavelka, DDS, MDS, when presenting the award. "Dr. Parker, thank you for reminding us of why we became oral and maxillofacial surgeons."
Dr. Parker earned his dental degree from UCLA School of Dentistry and completed his residency in oral and maxillofacial surgery at UCLA Hospital and Medical Center. After his residency training, he spent five years as senior registrar, North Wales Oral and Maxillofacial Surgery Unit, Glan Clywd Hospital in North Wales, United Kingdom.

In 1987, Dr. Parker joined Mercy Ships, an international charity founded in 1978, and became a ship surgeon on the Anastasis. Thus began his dedication of his life's work to Mercy Ships' humanitarian service. He currently serves as Chief Medical Officer onboard the 16,500-ton Africa Mercy, where he lives with his wife and children.