Vietnam War-era Swift-class Patrol Boat to be Restored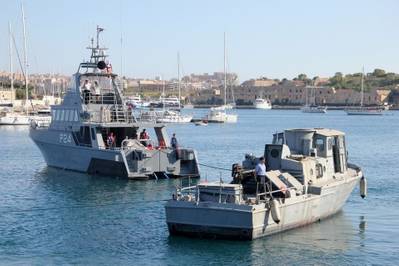 Maritime Museum of San Diego acquires Vietnam war-era vessel for restoratation, appeals for donations.
The Maritime Museum of San Diego announces the acquisition of a Vietnam War-era Swift Boat from the Republic of Malta for renovation and permanent display in San Diego.
Formally called Patrol Craft Fast (PCF), the United States Navy's PCFs were first put into service in 1965 when American sailors used them to patrol the coastline of South Vietnam to prevent sea infiltration of soldiers and munitions from North Vietnam. Such counterinsurgency missions had to be executed quickly, and hence, the crafts were nicknamed "Swift Boats" for their speed and agility in moving in and out and harm's way.
Representatives from the Museum were present in Malta on July 20th for a ceremony to honor Swift Boat sailors from both the United States and Malta and to coordinate the turnover of the vessel.
Immediately thereafter, the boat was secured for towing and began its return journey to the U.S. where it was originally designed and constructed. The acquired Swift Boat, will temporarily dock in Norfolk, Virginia before arriving in San Diego in late August.
The craft will be carefully renovated locally to faithful period appearance and operational capacity under the Maritime Museum's supervision, which will result in the U.S. Coast Guard certificating the Swift Boat as a documented vessel, enabling it to be exhibited and operated for narrated tours.
The initial $100,000 transportation and restoration cost is being solely funded by donations to the Maritime Museum. The "Bring Her Home" Swift Boat Maintenance Fund has been created to help support this effort, as well as long-term care and maintenance. Direct contributions can be made online here.