Experts to Present Findings at 2012 SNAME Symposium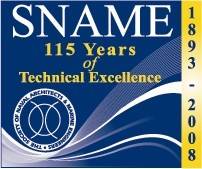 Collisions between powered and non-powered personal watercraft (PWC) and sail or powered craft (SPC) are a serious concern for professional mariners and recreational boaters alike. USCG statistics show that in recent years, collisions with a recreational vessel have consistently ranked as the leading primary marine accident type.

The topic of collisions will be explored at a three-day symposium April 3-5, which brings marine professionals and historians together in National Harbor, Maryland, to exchange information on historic marine losses, on marine forensic investigation processes and tools, and on case studies where causes of failures and losses have been determined or are under continued study. The Symposium is jointly sponsored by The Society of Naval Architects & Marine Engineers (SNAME), The American Society of Naval Architects, and the Marine Technology Society.

Operator inattention and improper look-out are leading primary contributing factors to marine accidents. Human factors considerations, including the visibility, conspicuity, detection and identification of non-powered PWC weigh heavily in marine accident investigations and forensic analysis of collisions.

Oftentimes, seconds or less in power craft response can make the difference between a catastrophic collision and a harrowing but harmless near miss. For the operator of an SPC to take evasive action to avoid a collision, they must first detect and then identify the presence of the PWC. Visual detection and identification distance is critical in providing the SPC operator with sufficient time and distance to alter their course or take appropriate emergency action to avoid colliding with a PWC.

The study revealed several findings, including that identification distance is enhanced when the very small craft is viewed against a shore background and when wearing fluorescent attire; there are Zones of Vulnerability, which prudent operation of very small craft and power and sail craft must be aware of and avoid.

Twenty recommendations are made with regard to boater safety and education to help commercial and recreational mariners avoid collisions with very small craft.