Teekay Tankers Reports Q1 Results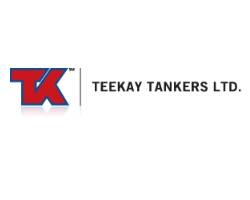 Teekay Tankers Ltd. (NYSE: TNK) - Highlights
Teekay Tankers Ltd. (Teekay Tankers or the Company) today reported its first quarter results for 2011. During the quarter, the Company generated $15.7 million in Cash Available for Distribution(1). Today, Teekay Tankers declared a dividend of $0.25 per share(2) for the first quarter of 2011, which will be paid on May 27, 2011 to all shareholders of record on May 20, 2011. The first quarter dividend was calculated using the weighted average number of shares outstanding for the quarter ended March 31, 2011, a methodology that is consistent with the Company's dividend policy(3).
Teekay Tankers' policy is to pay a variable quarterly dividend equal to its Cash Available for Distribution, subject to any reserves its board of directors may from time to time determine are required. Since the Company's initial public offering in December 2007, it has declared a dividend in 14 consecutive quarters, which now totals $6.395 per share on a cumulative basis (including the $0.25 per share dividend to be paid on May 27, 2011).
"While we benefited from an increase in the average tanker rates generated by our spot-trading fleet, the first quarter's dividend was primarily supported by revenues generated by our fixed-rate time-charter portfolio and income earned on our investment in two VLCC mortgage loans," commented Bruce Chan, Teekay Tankers' Chief Executive Officer. "With spot tanker rates being weak, we expect to continue benefiting from the strong fixed-rate cash flow generated by our contracted fleet. We recently entered into a new 12 month time-charter for one of our Aframax tankers at a similar rate to its expiring time-charter, which brings our fixed-rate coverage for the last three quarters of 2011 to 60 percent and for 2012 to 33 percent, further supporting our future dividend payments."
Mr. Chan continued, "With almost $300 million of available liquidity, Teekay Tankers remains well positioned to pursue attractive growth opportunities."
Source: http://www.teekaytankers.com