Somali Pirates Release Tankship After a Year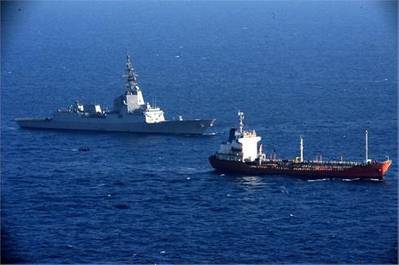 Chemical tanker 'MV Royal Grace' unexpectedly sailed out of pirate's anchorage, then assisted by EUNAVFOR warship.

The pirates had held the vessel after attacking it over a year earlier, on 2 March 2012 in the Gulf of Oman.

Early in the morning of 8, March 2013, ESPS Mendez Nunez was conducting counter-piracy patrols 20 nautical miles off the northern Somali coast, when she sighted Royal Grace sailing north from the pirate anchorage at a speed of 4 knots. Shortly afterwards, the warship received a radio call from the master of the tankship, who confirmed that his ship was now free of pirates and that his 20-man crew were in need of food, water and medical assistance.
A boarding and medical team was sent across to the Royal Grace, and after providing the crew with food and water, they were checked over, with two being given medical treatment.
MV Royal Grace is currently en route to Muscat under the watchful eye of another EU Naval Force warship, ESPS Rayo.

Speaking about the assistance given to the tankship, Rear Admiral Bob Tarrant, who is the operation commander of the EU Naval Force said "I am relieved that the crew of MV Royal Grace are now safe and on their way home. It has been an extremely worrying time for the men and their families."