Rescue Boat Ordered for Taranaki Coast Guard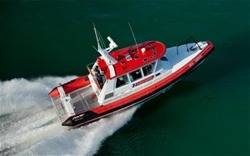 New Zealand's AMF Boatbuilding Co. commissioned to build $1.2M Coast Guard Vessel.
Taranaki Volunteer Coast Guard, after 4 years of fundraising, have commissioned AMF Boat Company to build their 11.7M Rescue craft. Construction of the vessel is to be constructed in the Wanganui factory and is due to start in the coming weeks, with completion later in the year.
This is the second 11.7M RIB built by AMF for Coast Guard, with the first being based at Hawkes Bay and operating successfully for the last three years. These heavy duty vessels, which are assigned design category A according to ISO 12217-1, which states that the vessel will be capable of operating in waves up to 7M in height and in winds up to Beauforce 10, this equates roughly to a sea state greater than 6 on the Douglas Sea State Scale.