Technology, Economy the Focus of New Marine Academy in China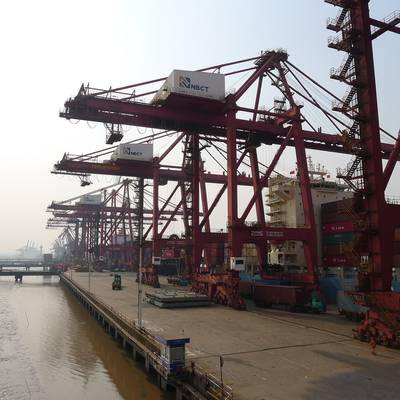 The Ningbo Nottingham International Academy for Marine Economy and Technology (IAMET) has been officially launched at a ceremony at The University of Nottingham Ningbo China (UNNC).

A partnership between The University of Nottingham, Wanli Education Group and Ningbo Municipal Government, the Academy will build on Ningbo's marine-related activities and support the city's 12-year plan, a focus of which is the marine economy.

The marine economy is one of China's key strategic development areas. It has seen an annual growth rate of 13.5 per cent since 2001 and is widely regarded as the next key economic growth area for the country. In 2011, the gross production of marine-related industries was 4.56 trillion Yuan, which accounts for around 10 per cent of GDP, and this is expected to reach 15 per cent in 2015.

The IAMET, which will be based at a purpose-built, state-of-the-art facility at UNNC, will provide ground-breaking applied research and will work with local, national and international companies to train talent, exchange knowledge and commercialize research. It will leverage The University of Nottingham's global experience in various areas of research including port services and logistics, marine advanced materials, biological products and environmental management. It will also draw on the input and advice of independent world-leading academic and industry experts to deliver innovative programs.

During the launch event, which was held at UNNC, the Academy was officially opened by Professor David Greenaway, Vice-Chancellor of The University of Nottingham, and Zhongchao Chen, Vice Mayor of Ningbo Municipal Government. Agreements were also signed with various local companies who were interested in collaborating with the IAMET.

Addressing the audience of representatives from regional and international businesses, local government and the British Consulate, Professor David Greenaway acknowledged the role Ningbo's port had played in UNNC's history and future. The University, he said, could contribute to the vision of the region, by "translating research into impact in Ningbo" and expressed his belief that the centre would have a "tremendous impact" on Ningbo's economy over the next decade.

Professor Greenaway said, "Ningbo's 12-year plan acknowledges the extraordinary role which Ningbo's port has played in its long history, but there is also recognition that it could play an even greater part in its future and the social and economic development of this great city, in this great region. Today we've launched something that I think will have tremendous impact on the University, tremendous impact on the local and regional economy over the next 10 years. I think the Ningbo 12-year plan has great vision and I'm absolutely delighted that we will have a role in trying to realize that vision."

Zhongchao Chen, Vice Mayor, Ningbo Municipal People's Government, spoke of the importance of the marine economy as a national government priority and the need to take advantage of the University's expertise to enhance the region's capabilities in science and technology innovation.

Matthew Forbes OBE, Deputy Consul General, British Consulate General in Shanghai, described UNNC as "a real pioneer" and an example of what the UK can offer China. He said that China is committed to developing deeper links with the UK in science and technology and added that "the marine economy is a key strategic development area, with Ningbo the perfect environment to develop the academy."

Professor Hai-Sui Yu, Pro-Vice-Chancellor (International) at The University of Nottingham added that IAMET would be a "major flagship partnership" as the marine economy is regarded as "a vital component of China's long-term economic strategy."

The IAMET was launched amid celebrations of UNNC's 10 year anniversary celebrations, marking a decade since The University of Nottingham established its campus in Ningbo.