Stream Marine Training Building New HQ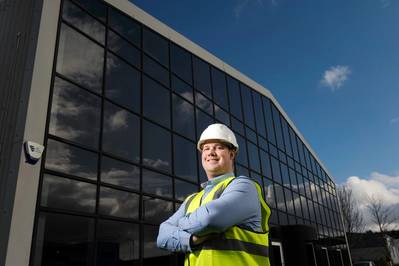 U.K. safety training company Stream Marine Training (SMT) has broken ground on a major project to refurbish its newly purchased 20,000 sq ft headquarters at Glasgow Airport.
SMT was founded in 2014 by Martin White at smaller premises at Glasgow Airport. SMT specializes in providing firefighting, sea survival, rescue craft and health & safety courses to the maritime, oil and gas, renewables and construction sectors. In just two years SMT has grown turnover rapidly to circa £2 million with 22 full-time staff and 15 consultants. Clients include Disney Cruises, Caledonian MacBrayne and P & O Ferries.
White said SMT will expand its range of courses from the state of the art new building Stream House which is due to open in the spring will increase SMT's space at Glasgow Airport tenfold. The new headquarters will work in tandem with SMT's survival craft training centre at James Watt Dock on the Clyde Estuary. White said he expected full time staff numbers to rise to 30 as a result of the expansion within 12 months.
"We are investing to meet the demand for training here in Scotland with so many seafarers being based around the Central Belt," he said. "But also to meet demand from across the UK and overseas. That is why Glasgow Airport is such a good location for us, it is easy to get to for UK and international clients and there is plenty of accommodation on the airport campus. As a result we are building a global client base. At present, we run around 30 accredited courses and work with more than 100 clients issuing around 700 certificates a month. The new HQ will grow that as we launch new courses which will include a helicopter underwater escape training pool and the first LNG training facility in the world for on-land and at sea safety training. It is a very exciting time for SMT and we are looking to work with more shipping companies, cruise line operators, maritime engineering firms and shipyards. In addition, we can work with companies in the highways, rail and construction sectors. There is massive scope for growth."
White said he sees particular scope for growth for its enclosed, dangerous space and working at height courses with rescue, which are now the only courses of their kind in Scotland recognized by the Merchant Navy Training Board.
"Our approach is to be flexible to the needs of industry," he said. "We can undertake bespoke training here, training in the evenings or over weekends and we can train on vessels or assets anywhere in the world. We understand our industry and know many people may struggle with written English or if a person feels nervous or stressed in a physical training environment we will provide one-to-one care to ensure they are successful. Innovation in training is at the heart of Stream Marine Training and everything we do."
White said SMT has recently started a new study with Glasgow University to improve course content.
"Safety is such a massive area which we are still learning about," he said. "As a result we've started a new research project with Glasgow University examining issues such as mental health at sea which is a big issue for seafarers. Plus the study will look at how accidents are caused through lack of knowledge so we can identify holes in existing training programs."
White said SMT has further plans to expand to Merseyside and is actively pursuing new business in Singapore, the
Far East
, the United States,
Europe
and the Isle of Man.
SMT's courses meet the requirements of training approval bodies such as Maritime and
Coastguard Agency
and Merchant Navy Training Board.