Metal Shark FPB-L Training Boats for U.S. Navy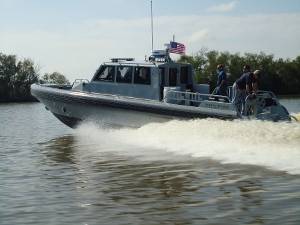 Metal Shark Boats has completed delivery of two 38 Defiant training craft to the U.S. Navy as a Force Protection Boat-Large (FPB-L) Training platform. Designed for global deployment as a force/asset protection vessel, the 38 Defiant fleet will be based out of Little Creek Training Center in Virginia. With 19 Force Protection Boat-Small (FPB-S) vessels - based on the Metal Shark 27 Defiant platform - currently deployed to Bahrain for Naval asset protection, the Defiant platform is already a well-known asset to Naval forces worldwide.
Powered by twin 5.9-liter Cummins diesel engines and maneuvered with Hamilton 292 Waterjets, Defiant intercepts would-be threats at a top speed of 40 knots. Three weapon foundation mounts and a gunner's tub ensure the crew's safety, as well as that of vessels under Defiant's protection. Extensive electronics and a co-pilot's full set of throttle, bucket and shift controls provide unparalleled visibility, as well as unrivaled control of the vessel itself. With an eye toward crew comfort, 38 Defiant's extended cabin offers SHOX-brand shock mitigating seats, engine-driven heat and air conditioning, and a private head.
Metal Shark has taken a new approach to collared craft with an innovative foam collar that increases deck space and workable area while offering ample protection for the craft and its occupants. The removable urethane-sheathed solid foam collar combines the utility of a full foam collar with the deck space and simplicity of a hard sided craft.
38 Defiant standard features include:
•
A self-bailing cockpit with 6-inch scuppers,
•
Six eight-inch welded cleats,
•
300-gallon baffled aluminum fuel tank,
•
Two helm seats with dual controls,
•
Bow deck with storage compartment and hatch,
•
and two 2000 gallon-per-hour bilge pumps with auto/manual control
Specifications
Beam
11.4 ft (with collar)
Consistent quality is the hallmark of Metal Shark's manufacturing process. The company designs all of its hulls and components utilizing advanced 3-D rendering software which, when combined with computer-guided routers, ensures that every Metal Shark meets the rigorous standards of even the most demanding operators.
The 38 Defiant's structural integrity begins with the internal structure of the hull itself. Welded from high-grade 5086 aluminum alloy, the deck-height longitudinal and transverse structures interlock with one another to form the boat's incredibly rigid "skeleton." Additionally, the incorporation of bends in place of welds in key locations affords reduced weight and increased efficiency while maintaining the boat's incredible toughness and durability.
Further contributing to the 38 Defiant's strength is the boat's rugged, non-skid deck, which is fully welded to the hull, transverse bulkheads, and longitudinal girders. The innovative deck design provides unmatched strength while minimizing waste. Prior to final assembly, the hull is filled with expandable foam, allowing for level floatation when the boat is fully swamped