Cargotec Transfers Battle Tanks Between Ships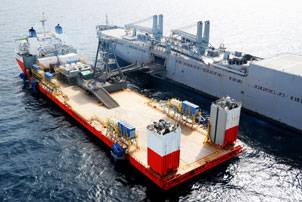 Designed to transfer military vehicles between ships at sea to support US Army and Marine Corps land forces as part of the US Navy's Sea Base strategy, Cargotec's innovative test article vehicle transfer system (TAVTS) has now successfully completed sea trials. These were carried out by the US Navy's Strategic and Theatre Sealift Program Office (PMS 385) which is part of Program Executive Office Ships (PEO Ships).

TAVTS is part of a risk-reduction effort by the US Department of Defence Maritime Prepositioning Force (Future) when transferring military vehicles between ships at sea. The aim of the tests and the programme is to provide the US military with the capability for large-scale logistics movements from sea to shore without dependency on foreign ports.

During the trials, the US Navy demonstrated the transfer of vehicles between the surrogate 'mobile landing platform' (MLP) Mighty Servant 3 and the 'large medium-speed roll-on/roll-off' (LMSR) ship, USNS Soderman. The test demonstrated a self-deploying ramp system installed on the MLP and a new self-deploying sideport platform installed on the LMSR vessel. Deployment and retrieval of the ramp is controllable by one person. In case of failure, the system can safely continue to support vertical and horizontal design loads and allow emergency ship separation while carrying a vehicle weighing up to 72.5 tonnes (160,000 lb) anywhere along the length of the ramp.

Cargotec conducted harbour trials in Norway in November 2009, and PEO Ships' full-scale testing conducted was successfully completed in February this year. All test procedures were performed using the graduated 'crawl, walk, run' approach: starting with demonstrations alongside and at anchor, progressing to low sea state conditions in open water, and finishing with increasing sea states in open water.

Personnel and vehicles were successfully transferred between the ships in high Sea State 3 and low Sea State 4 during several days of testing in the Gulf of Mexico. Vehicles transferred included high-mobility multi-purpose wheeled vehicles (HMMWVs), HMMWVs with trailers, medium tactical vehicle replacements, logistics vehicle system wreckers, amphibious assault vehicles, M88 tank recovery vehicles, and M1A1 main battle tanks.