Transocean Prices Initial Public Offering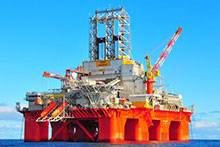 Transocean Partners LLC, a Marshall Islands limited liability company formed by Transocean Ltd., has announced the pricing of its initial public offering of 17,500,000 common units representing limited liability company interests at $22.00 per unit.

All of the common units are being offered by Transocean Partners Holdings Limited, a wholly owned subsidiary of Transocean Ltd. Transocean Partners Holdings Limited has also granted the underwriters of the offering a 30-day option to purchase up to an additional 2,625,000 common units.

The common units being offered represent a 25.4 percent limited liability company interest in Transocean Partners LLC, or a 29.2 percent limited liability company interest if the underwriters exercise in full their option to purchase additional common units. Transocean Ltd., through Transocean Partners Holdings Limited, will own the remaining limited liability company interests in Transocean Partners.

The common units are expected to begin trading on the New York Stock Exchange on July 31, 2014 under the ticker symbol "RIGP." The offering is expected to close on or about August 5, 2014, subject to customary closing conditions.

Morgan Stanley, Barclays, Citigroup, J.P. Morgan and Wells Fargo Securities are acting as joint book-running managers for the offering. Credit Suisse, Goldman, Sachs & Co., BofA Merrill Lynch, DNB Markets, MUFG, Credit Agricole CIB and Standard Chartered are acting as co-managers. The offering is being made only by means of a prospectus.