John Porcari Confirmed for WTS Transportation Policy Symposium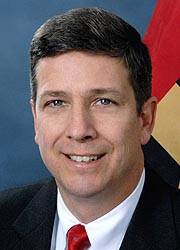 U.S. Deputy Secretary of Transportation John Porcari will deliver the keynote presentation at the 2013 WTS Policy Symposium next month.
The symposium, which will take place on Sept. 17, 2013, at the Mayflower Hotel in Washington, DC, will bring together high-profile transportation leaders across all modes, from both the public and private sectors, to discuss topics such as technology, public-private partnerships, and the future of high-speed rail, as well as present an opportunity for attendees to network and advance the industry through new knowledge and possible new strategic alliances. WTS International holds the policy symposium every few years in an effort to fulfill its mission to build the future of the transportation industry through the global advancement of women.

"WTS is thrilled to continue working with the U.S. DOT under the leadership of John Porcari and Transportation Secretary Anthony Foxx on creating a more gender diverse workforce with more women in leadership roles. Mr. Porcari's participation in the 2013 WTS Policy Symposium further solidifies this commitment as he is a pillar in the industry and a great supporter of our mission," said Marcia Ferranto, WTS President and CEO.

The work that Ferranto refers to is DOT's partnerships with organizations like WTS that have an eye on the future. "President Obama's administration has emphasized the economic imperative of advancing and empowering women in all sectors of the economy and this is especially critical to the transportation sector's economic growth, enhanced competitiveness, and long-term sustainability," she added.

WTS is the only multi-modal transportation association aimed at attracting women to the industry. As such, WTS is frequently called upon to attend or participate in presentations, forums, briefing sessions, and symposiums held by various White House agencies. WTS International's work with U.S. DOT includes the Transportation YOU program, which began as a joint effort of WTS and the DOT at the signing of a memorandum of understanding in 2010 to create programs that encourage girls aged 13 – 17 to set out on an academic path that leads to a career in transportation.