Transporting Hazardous Substances by Ship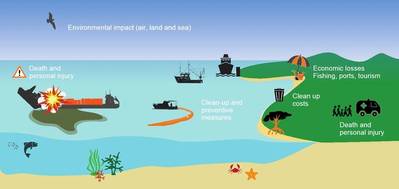 Transporting hazardous and noxious substances (HNS) by sea is a vital trade. Chemicals, LPG, LNG and other products are important to many manufacturing and energy processes and International Maritime Organization (IMO) regulations ensure their safe transport.
However, when incidents do happen, IMO's HNS Convention helps to ensure that those who have suffered damage have access to a comprehensive and international liability and compensation regime.
To explain this treaty and why it is needed, IMO's
Jan De Boer
is participating at the LNG Ship/Shore Interface Conference in London (16-17 November).
His keynote speech covered the impacts associated with HNS incidents, including those involving chemical and LPG tankers, as well the overall benefits of the Convention and the next steps for States to implement the treaty.
HNS covered by the Convention include: oils; other liquid substances defined as noxious or dangerous; liquefied gases; liquid substances with a flashpoint not exceeding 60˚C; dangerous, hazardous and harmful materials and substances carried in packaged form or in containers; and solid bulk materials defined as possessing
chemical hazards
.