Arctic Rowers to Traverse Bering Strait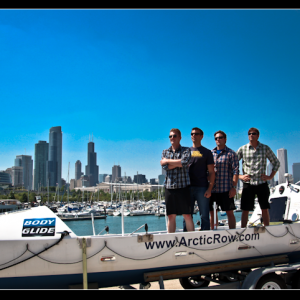 Four American rowers intend to row their 8-metre-long boat, 'Arctic Rower', between Inuvik, N.W.T. and Russia
The four men, all experienced in rowing long distances, plan to leave Inuvik, N.W.T. and take 30 days rowing 2,000 kilometres east, around Alaska and to Provideniya, Russia.
Latest update from the rowers' dedicated blog is as follows:
"We've now been in Inuvik for almost a week. Last Sunday we took a boat trip north, through the Mackenzie Delta, to Tuktoyaktuk, an Inuvialuit village on the Arctic Coast. But the reality of the upcoming row didn't really begin to set in until Paul arrived on Wednesday.
We picked him up at the airport and then took him to our campsite, where we've relocated the boat. (Here we've got access to electricity and water, and it's far less muddy than the lot at Matco.) He's spent most of his time in the aft cabin, working on electronics and the water maker. Last night we installed the wind generator, which (along with the solar panels) will provide power for the boat's electronics.
This afternoon the rest of the crew will arrive, which should add a new layer of excitement to the scene. The opening ceremonies of the Great Northern Arts Festival also take place tonight [Friday, 13, July 2012]; we're hoping we can all attend.The launch of Arctic Row is still set for Sunday, though I think there's a good possibility it could slip to Monday. We'll keep you posted!"