CMR Group Wins Triple Order in Mexico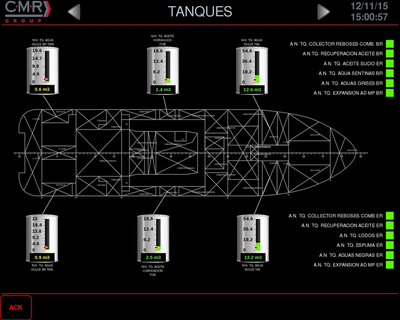 Marine automation and control technology and instrumentation specialist CMR Group informs it has installed its Clarinux Integrated Alarm, Monitoring and Control System (IAMCS) on three multipurpose supply vessels (MSV).
The project has been undertaken in collaboration with CMR's Spanish marine agent and automation specialist, PDI Beiramar.
Engineers from CMR Group and PDI Beiramar worked closely during joint acceptance testing at CMR France's Marseille base before delivering the technology to the three vessels, which will be based in
Mexico
.
The IAMCS consists of an alarm system containing 200 on/off and 100 analogue hardwired channels, a Modbus interface with PMS in order to receive data and associated alarm system groups.
The control system contains four stand-by pumps, two each for oil and fresh water, eight start/stop pumps, 68 double effect valves (open/close) consisting of 28 for the ballast and bilge system and 40 for the diesel oil system and 176 DI and 172 DO I/O points.
The IAMCS includes one engineer repeater located in the bridge, and a second one in the ECR (for ER manned/unmanned), three repeaters in cabins and a last one in the mess. Additionally, a Dead Man Alarm has been integrated into the system, with two On/Off units and two Reset units to be mounted in the E.R.
This main source of electrical power consists of two generating sets of 531 kVA, 440Vac, 60 Hz, while CMR's scope of supply includes a PMS with functions including control and protection of the two diesel engines, four heavy consumers' management, load-dependent start/stop and load sharing.
"The vessel automation sector is highly competitive and our global customers are benefitting from excellent service support through PDI Beiramar," said Gerard Baldellou, marine division manager at CMR Group. "They are able to deliver and integrate our robust systems, which not only utilize hardware designed to operate in punishing environments but also employ our flexible and intuitive Clarinux™ software."
cmr-group.com