Roll-out of First MAN TCR12 Turbocharger Assembled in China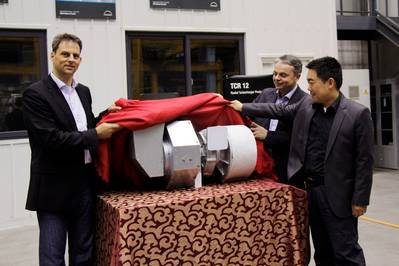 MAN Turbocharger China unveils the first TCR12 turbocharger completely assembled at its Changzhou factory.
This new development confirms MAN Diesel & Turbo's strategy of localising its turbocharger production in China.

Over the last two decades, the level of shipbuilding activity in China has increased dramatically, resulting in the country being ranked as the top shipbuilding nation globally for the first time in 2010. As the leading supplier of turbochargers for marine diesel-engine manufacturers in China, MAN Diesel & Turbo has continuously contributed to this rapid development and had already established a local set-up in Shanghai in 2002.

Initially acting as an assembly workshop for axial turbochargers, MAN subsequently localised component production over the years. In time, the Shanghai factory became too small and, in 2011, the turbocharger workshop was moved to the existing plant in Changzhou.



China is of strategic importance for the Turbocharger Business Unit," said Ralf Großhauser, Senior Vice President and Head of the Turbocharger Business Unit. "With the localisation of the TCR turbochargers, we are able to support our European production, shorten delivery times and cut transportation costs for the benefit of our Chinese customers."
MAN Turbocharger affirms it is committed to its 'ramp up China' strategy and the company reports that it plans to continue localising further frame sizes from its TCR turbocharger programme.


In the picture (from left to right) Ralf Großhauser – Senior Vice President MAN Diesel & Turbo, Head of Turbocharger Business Unit, Stjepan Kucifer – Managing Director, MAN Diesel & Turbo Changzhou, and Dai Jun – Head of Turbocharger Production China.