TWIC – CG Reports Good Start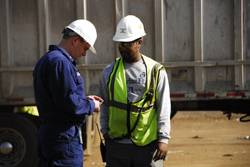 The U.S. Coast Guard announced that the first week of enforcement of compliance with the Transportation Worker Identification Credential Program in Coast Guard Captain of the Port Zones Northern New England, Boston, and Southeastern New England has resulted in only 23 denials of entry to port facilities out of the nearly 20,000 port workers, longshoremen and truckers required to comply with the program by the region's enforcement deadline of Oct. 15, 2008.
Coast Guard field units in the region reported a successful kick-off of the compliance phase of the national maritime security program, noting that regulated port facilities in continued business as usual as they complied with regulations requiring all personnel needing unescorted access to secure areas of facilities carry a TWIC.
The credential is an additional means of security in 's ports. Owners and operators of facilities regulated under the Maritime Transportation Security Act have the option of either denying entry to secure areas by those workers who have not yet obtained their TWIC or providing escorts for those workers.
Compliance with and enforcement of the provisions of the TWIC Program is being conducted in phases. Port facilities located on the are required to comply with TWIC Program requirements by Oct. 31, 2008.