Unifire Joins SAMI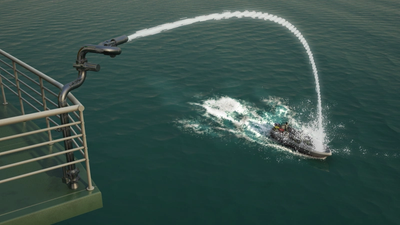 Swedish anti-pirate water cannon manufacturer, Unifire AB (unifire.com), has announced that it has become a full Member of the Security Association for the Maritime Industry (SAMI).


SAMI is a global, non-profit organization established to enhance maritime security generally by allowing "the best security operators to proudly show their standards, [allowing] companies to apply continuing, benchmarked improvement, while providing the rest of the shipping industry with the reassurance it wants and needs."


SAMI Founder and Security Director, Peter Cook, says, "The Security Association for the Maritime Industry (SAMI) is extremely pleased to welcome Unifire into the global membership. The use of equipment, technology and hardware solutions is increasingly important for shipping, and our members are at the forefront of these developments. Working with our members and providers, such as Unifire, the maritime security industry is able to provide not just the right security for shipping but solutions which deliver excellent results, protection and reassurance."


SAMI's membership is comprised of over 180 firms across 35 nations, and represent the interests of, and is working to set new standards for, maritime security equipment, technology and hardware manufacturers as well as maritime consultants, security providers and trainers.


According to Unifire's Director of Marketing, Roger Barrett James, Esq., "As a company devoted to non-lethally protecting the shipping industry against pirate attacks and hijackings, Unifire is proud to be a Member of SAMI; an organization that shares Unifire's vision of setting the highest possible standards of equipment and service in the maritime security business. The focused pursuit of this goal serves the security interests of the shipping industry as a whole, which has a positive rippling effect on global markets and, ultimately, on ourselves and our communities. Unifire looks forward to actively working with SAMI's Equipment, Technology & Hardware group to formulate rigorous quality and performance standards for the industry."