BCGP Unveils Newest Model: 1100 Impact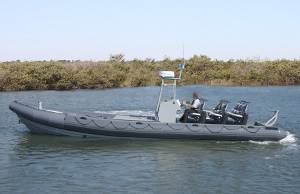 Brunswick Commercial and Government Products (BCGP) unveiled its newest model ─ the 1100 Impact ─ during the 2011 Multi-Agency Craft Conference (MACC) in Virginia Beach, Va. This 36-foot rigid hull inflatable boat (RHIB) is the first model BCGP has powered with optional twin diesel Cummins 5.9 inboard engines and dual Doen waterjets.
"This new platform gives our customers a range of propulsion options," said BCGP Sales
Manager Jeremy Davis
. "It was specifically designed for optimum performance, whether it is equipped with inboards with jets or sterndrives, or outboards," he said. "Fortunately, our engineering capabilities allow us to configure each boat to ensure the load is appropriately distributed based on desired propulsion to meet mission requirements."
Davis said the size of the 1100 Impact makes it well suited for crew transport and other high-load capacity assignments. Its deep-V hull is designed to reduce hull and human fatigue in a dominant sea state. Additionally, its inflatable Wing® collar provides quick recovery and lateral stability without adding significant weight. It also provides shock absorption and fendering during boardings and other close contact maneuvers. This inaugural model is also outfitted with optional shock mitigating seats designed by Shoxs for an additional level of crew comfort.
Despite its bluewater capabilities, the 1100 Impact is capable of inshore operation, drawing only 18 inches in the twin jet configuration.
Specifications:
• Lenght, o.a. (including tube)
36 ft
• Beam (including tube)
10.7 ft
• Weight (no engine)
6,312 lbs
• Fuel Capacity
Up to 265 gal