Unwelcome US Marina Visitor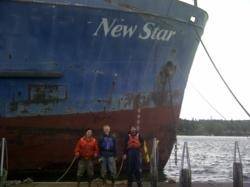 The Resort at Port Ludlow: efforts are still underway to expedite the departure of 118 ft delinquent vessel 'New Star'.

Port Ludlow Marina (Ludlow, WA) staff, along with the ship's current owner Geroge Marincin, have put a 24-hour vessel watch in place with the assistance of Rodger Slate, Vessel Assist of Port Hadlock, Wa. The Coast Guard did inspect the vessel and found that it does not pose any immediate environmental danger.

Kori Ward, Port Ludlow Marina's Manager also initiated a mandate to have a weather contingency plan in place to insure that the dock or other vessels located in the marina are not harmed.

George Marincin owns and operates the company that retrieves, "hulks," or delinquent vessels to help dispose of them in a manner that is ecologically sound and helps to clean up the waterways which in the past have been the dumping grounds for vessels like the New Star.
The derelict ship was last used in Tacoma as a breakwater and was headed south bound to be dismantled and sold for scrap.

At this point there is not a clear exit plan for the New Star, to depart but the owner as well as the Port Ludlow are doing all they can to find a solution.