Using Data, Batteries OSV Operator Cuts Consumption 20%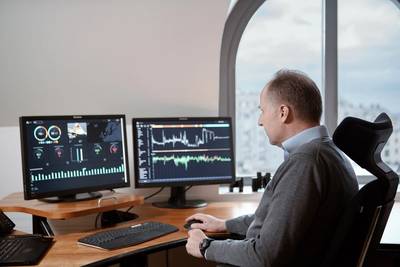 Golden Energy Offshore, Kongsberg collaborate to reduce operational fuel consumption.
While vessel owners mull a myriad of fuel and emission reduction technologies, Norwegian Offshore Service Vessel (OSV) owner and operator Golden Energy Offshore reports a 20% operational fuel savings courtesy of its work on vessel performance monitoring with Kongsberg Maritime, a collaboration which includes the deployment of the containerized SAVe Energy battery system earlier this year.
"We have a high focus on how our environmental footprint can be reduced, and how our operations can be optimized to contribute to the United Nations sustainability goals," said Per Ivar Fagervoll, CEO, Golden Energy Offshore. "By installing the battery system, shore-power connection and monitoring performance, our energy consumption and environmental impact are significantly reduced."
Per Ivar Fagervoll, CEO, Golden Energy Offshore (left) and Joakim Kjølleberg data scientist, Kongsberg Maritime. Photo: Kongsberg Maritime/Golden Energy Offshore
The test platforms producing the results was Golden Energy Offshore's UT 776 CD design Platform Supply Vessels (PSV), NS Orla and NS Frayja, which have been monitored and analyzed by Golden Energy Offshore and Kongsberg since 2015.
Using the Kongsberg Vessel Performance System (VPS), which includes new vessel data to cloud infrastructure Vessel Insight deployed this year, Golden Energy Offshore was able to parlay information and analytics to transform daily vessel operations.
"With availability of historical data of all key components onboard from the previous four years from the VPS, we had all the information needed to further configure the systems to help the Golden Energy Offshore's vessels to perform at their best," said Joakim Kjølleberg, data scientist, Kongsberg.
In addition to data analytics and vessel operation modification, the team this year added the SAVe Energy battery system to both vessels, each sailing with batteries for more than six months.
"By utilizing a redundant battery solution connected to the main switchboard in Dynamic Positioning operations, we are able to reduce total engine running hours by 43%," said Kjølleberg. "The increased load and improved efficiency are very beneficial, helping the vessels to achieve operational fuel savings of 20 percent. This combined with shore connection at port means that the vessels are on their way to achieving annual fuel savings of approximately 360 cu. m., equivalent to around 1000 tons of CO2 and 3 tons of NOx."