Otto Marine Bags US$40-Million Offshore Vessel Charter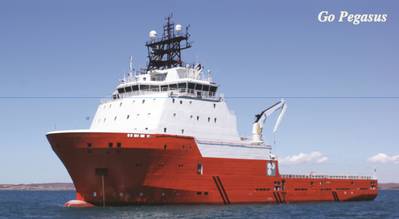 Singapore-based Otto Marine say they have secured a long-term charter contract for their AHTS 'Go Pegasus', which was recently deliverd from their own Indonesia shipyard in Batam, Indonesia.
Go Pegasus will soon be mobilized and deployed to the North Sea where she will work for the summer season before commencing its term contract from September 2014. As part of the contract, the client also has options to extend the contract for an undisclosed period.
The new offshore vessel is a Norwegian designed and DNV classed anchor handling tug supply (AHTS) vessel. Equipped with dynamic positioning 2 (DP2) capabilities, the VS491, 24,000 bhp AHTS is particularly suited for work in harsh environments.

"We are very happy to have secured a sizeable contract for Go Pegasus' maiden project immediately after it joins our fleet. In addition to enhancing our fleet profile, Go Pegasus will aid the Group in strengthening our presence in the North Sea and pave the way for future work in the region. This charter contract is a reflection of the strong interest we are receiving globally for vessels with this tonnage."

About Otto Marine
The company is an offshore marine group which owns and operates a large fleet of offshore support vessels and is engaged in specialized shipbuilding of offshore vessels for primarily Deep Sea applications. The shipbuilding includes ship repair and conversion. Headquartered in Singapore, the Company owns/leases and operates 64 offshore vessels and one of the largest shipyards in Batam, Indonesia