USNS Amelia Earhart's Honors Ship's Namesake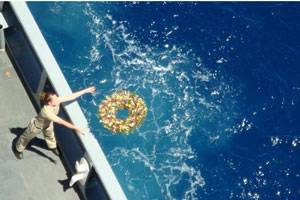 Military Sealift Command dry cargo/ammunition ship USNS Amelia Earhart paused its maiden MSC mission to pay respect to the ship's namesake at the site where the famed aviator disappeared July 2, 1937. As the sun began to set over Howland Island in the Central Pacific Ocean, the ship's crew took a quiet moment to hold a wreath laying ceremony in the area where Earhart and her navigator Fred Noonan are believed to have perished during an attempt to circumnavigate the globe.

"Despite all of her accomplishments, Amelia Earhart was known as a very private person," said Capt. John Pope, Earhart's civil service master, of the aviator who was the first woman to receive the Distinguished Flying Cross for flying solo across the Atlantic Ocean. "There was something very dignified about her modesty, and I think our simple remembrance would be just her style."

Earhart, which was accepted into the MSC fleet in October 2008, passed Howland Island while en route to deliver more than 600 pallets of equipment, medical supplies and food to MSC dry cargo/ammunition ship USNS Richard E. Byrd as it prepares to deploy on humanitarian assistance mission Pacific Partnership 2009.

During the mission planning, Earhart's crew discovered that their course would bring them within 70 miles of Howland Island, and a slight course change provided the ship with this rare opportunity.

"It's amazing how this all came together," said civil service mariner Michelle Stark, Earhart's second mate and navigator. "Howland Island is remote. People work for years sailing the Pacific and never come close to passing by it. Here we are on our first mission, on the ship named after Amelia Earhart, going right by where she was last seen."

Earhart is the sixth of eight ships in the Lewis and Clark-class of underway replenishment ships that deliver ammunition, provisions, stores, spare parts, potable water and petroleum products to the Navy's underway carrier and expeditionary strike groups. The capability allows combatant ships to stay at sea, on station and in combat ready for extended periods of time. Earhart has a crew of 124 civil service mariners and 11 sailors who provide operational support and supply coordination.