Kvichak Showcase Sea-fire's Versatility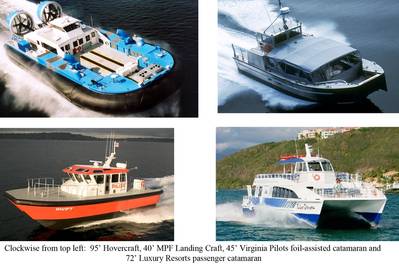 For 30 years, Kvichak Marine has been recognized as a worldwide leader in the design and construction of high quality and hardworking aluminum vessels.
Keeping up this high standard, the company recently fitted four very different boats with Sea-Fire fire suppression systems. A 95' Hovercraft for Aleutians East Borough, 40' MPF landing craft for the US Navy, 45' Virginia Pilots foil-assisted catamaran and 72' Luxury Resorts passenger catamaran were all installed with pre-engineered FM-200 systems. "Most of our vessels are custom designed so they don't have standard systems. But, when we do multiple runs, like we have with the MPF Landing craft, we keep the systems the same," said Art Parker, Kvichak sales manager. "We're satisfied with the systems' performance."

The people and environmentally safe FM-200 systems are offered in FG and FD Series. Ideal for protecting enclosed engine compartments, the FG series is offered in 20 sizes and best protects areas from 25 to 240 cu. ft. With 54 standard models to choose from, the FD series protects areas from 150 to 1,500 cu. ft. From fisheries patrol to firefighting and from transporting passengers or transporting pilots, Kvichak constructs vessels that have been proven reliable and durable on any mission. Sea-Fire Marine is a world leader in marine fire suppression technology and is dedicated to the protection of people and their investments.