VIDEO: Cargo Ship Crew Evacuated after Explosion Near Romanian Danube Port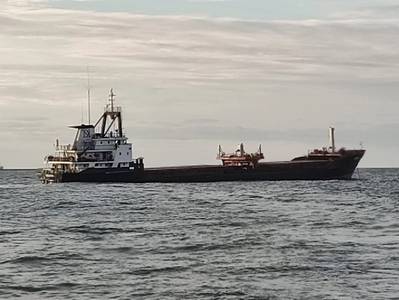 The crew of a Togo-flagged general cargo ship bound for one of Ukraine's Danube river ports was evacuated early on Wednesday after an explosion on board near the Romanian port of Sulina, Romanian officials said.
The Seama ship reported an explosion early on Wednesday and requested the evacuation of the 12-person crew near Sulina, where the Danube flows into the Black Sea.
"At the moment the causes ... are unclear, whether it was a mine or merely an explosion in the engine room," Romanian Transport Minister Sorin Grindeanu told reporters.
The crew was evacuated by the Romanian Agency for Saving Life at Sea (ARSVOM), which is coordinated by the transport ministry.
The Romanian naval forces deployed a sea mine hunter vessel with divers to Sulina to search for mines, the defense ministry said.
Credit: ARSVOM
Russia invaded Ukraine in February 2022, and mines have since then been laid in the Black Sea by the combatants. Romanian, Bulgarian and Turkish military diving teams have been defusing those that have drifted into their waters.
Moscow has also been intensifying attacks on Ukraine's Danube river ports across from Romania since it abandoned a deal to lift a de facto Russian blockade of Ukraine's Black Sea ports.
The Black Sea is crucial for shipments of grain, oil and oil products and is shared by Bulgaria, Romania, Georgia and Turkey, as well as Ukraine and Russia.
Romania, both a European Union and NATO member, shares a 650-km (400 mile) border with Ukraine, is host to a U.S. ballistic missile defence system and, as of last year, has a permanent alliance battle group stationed on its territory.
Credit: ARSVOM
(Reuters - Reporting by Luiza Ilie; Editing by Alex Richardson)