Cat C32 ACERT Repowers M/S Mount Washington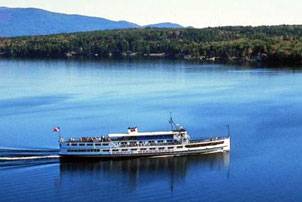 For the first time in 63 seasons of scenic cruises on Lake Winnipesaukee, New Hampshire, the M/S Mount Washington will rely on clean diesel power from a pair of newly installed Cat C32 ACERT marine engines. Through the help of funds from the U.S. government's American Recovery and Reinvestment Act (ARRA), Mount Washington Cruises received an EPA grant to replace older diesel engines with new "greener" technology. The M/S Mount Washington was one of nine projects funded in the northeast and the only project funded in New Hampshire.

Originally fitted with steam engines before World War II, the S.S. Mount Washington II had her engines taken by the government for war service in 1941 and replaced with Enterprise DMG18 diesel engines in 1946. At that time, all steam equipment was removed and changed to electrical power, including the steering plant. The installation of the 8-cylinder 615 hp engines was certainly a mighty feat, which entailed the use of a twenty-five ton chain falls to lower the huge blocks into place.

Since then, the 230 ft M/S Mount Washington has offered scenic daytime and evening cruises to thousands of tourists and local residents in New Hampshire, visiting five ports on Lake Winnipesaukee. The vessel has a maximum capacity of 1250 passengers, making it the perfect size for private parties and special occasions on its four decks.

In June 2009, Mount Washington Cruises was awarded grant money through the Northeast State for Coordinated Air Use Management (NESCAUM), a non-profit organization that pursues new opportunities to demonstrate cleaner technologies in a variety of marine vessel operations. Work was then begun with naval architects to determine plans to remove the old Enterprise engines and determine which engine manufacturer would provide the new engines for the excursion ship. The major stipulation for all proposals was that the engines much be EPA-certified Tier II compliant in regards to emissions.

The final decision for the new, clean engines was the Cat C32 ACERT engine, manufactured at Caterpillar's state-of-the-art Marine Center of Excellence facility in Greenville, South Carolina. Marine professionals at Milton Cat, the local Cat dealer for the northeast United States, provided technical details and sales support for the vee-type, 12-cylinder, 4-stroke Cat engines utilize ACERT technology, which includes the latest Mechanically actuated Electronically controlled Unit Injection (MEUI) fuel system, ADEM™ A4 Electronic Control Unit (ECU) and responsive twin turbo-charging and after-cooling. The result is a decline in fuel consumption, particularly at part load, and reduction in smoke and emissions while delivering reliable maximum power output.

Most importantly, the C32 ACERT engines are fully EPA Tier II compliant, which demonstrates Caterpillar's commitment to sustainable development and reducing a carbon footprint not only in the office and manufacturing environments, but also for customers as well. Along with meeting current EPA Tier II emissions regulations, the engine also meets IMO and EU inland waterway regulations and is certified for global marine classification societies. Producing 750 bhp (559 bkw) at 1800 rpm, the Cat C32 ACERT engines feature optimized turbocharging and aftercooling to provide reliable maximum power output with the minimum environmental impact – making it a perfect engine for a variety of applications.