Rhino's New WaterJet-Powered 950 Work/Dive Boat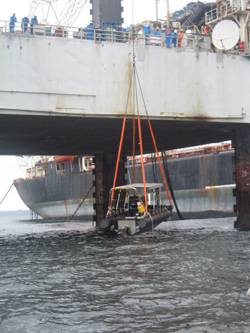 Wale Marine South Africa have designed and developed the Rhino Marine range of very robust, rigid and reliable workboats. Rhino craft are primarily fabricated from High Density Polyethylene (HDPE) and have been designed, developed and tested to create a robust and virtually indestructible workboat for use with outboard motors as well as inboard diesels with stern drives or waterjet drives.
The Rhino hull and superstructure are made from extrusion welded HDPE pipe and sheet and the craft incorporate pontoon seating and up-stand gunnels, lifting pad-eyes, deck lashing pad eyes, consoles and lockers. For operational safety, the forepeak bow-catcher is designed as a separate structure which is welded to the basic hull. This ensures in extreme environmental conditions, severe impact loading causing potential damage to the bow-catcher will be superficial and will not compromise the integrity of the hull itself
The first Rhino Craft was built in 2003. Continually evolving and improving to meet client's needs, the new fully-outfitted Rhino Marine 950 is an extremely effective purpose-built workboat for special offshore Dive SRP operations. Wale Marine together with SMIT Subsea developed the craft further. Hull improvements were made and the sponsons were made from 15mm HDPE to give the workboat extreme robustness to specifically withstand the mistreatment endemic to offshore operations as well as withstanding typical offshore bow-catcher boat landings.
Designed initially for offshore Mother ship dive operations during installations, the Rhino 950 is tailor-made for multi-mission operations, including servicing and repairs, crew transfers, as well as other coastal and near shore operations in varying sea and weather conditions.
Maintenance is low relative to other hull materials. As well as landing on sandy beaches this workboat can also land on rocky beaches!
Powered by a single Steyr MO306H43WJ 295 HP inboard diesel engine mounted via a ZF gearbox to a high performance UltraJet UJ305HT waterjet, during sea trials the Steyr-UltraJet propulsion package achieved 22 knots - despite the customer's specification only requiring a minimum speed of 15 knots.
The Rhino 950 is the largest workboat in the range but can be transported in a 12m flat-rack. It can also carry a spare outboard, if required. Various other options are available including a GRP canopy, or a stainless steel portal and canvas canopy arrangement.
Though the sea trials were not geared to accurately ascertain cruising ranges the general opinion was that the economical Steyr diesel and highly efficient UltraJet UJ305HT were an efficient combination and the system provided excellent manoeuvrability under all loading conditions. "For us embarking on this interesting prototype it was a pleasure to get the support from Ultra Jet which enabled us to make this project such a success" reports Anton Wale, CEO, Wale Marine South Africa.
Currently under construction is the new Rhino 690 EHD (Extra Heavy Duty) being fitted with an UltraJet 251 waterjet