Catamaran Passenger Ferry Delivered to Cruise Whitsundays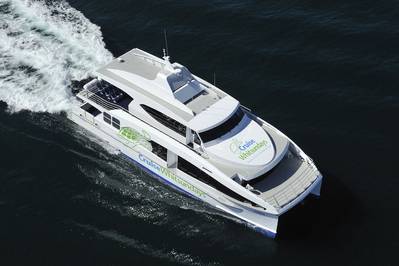 Incat Crowther announced the delivery of Cobia, a 24-meter Catamaran built by Aluminium Marine in Queensland, Australia.

Cobia is the fourth vessel utilizing the new-generation 24-meter design, following on from Fantasea Sunrise, Freedom Sovereign and Riverside Avalon. The design, featuring modern sleek styling, efficient construction, and a robust and stable hull, has been utilized for a number of Queensland operations, with the vessels proving successful in the Whitsundays, Yeppoon and Gladstone.

Cobia seats 124 passengers in its main deck cabin, with a large bar / kiosk located aft. Three toilets are located across the aft end of the deck, one of which is wheelchair accessible.

Entry and egress are aided by a pair of mid ship boarding doors, in addition to the stern gates. Up to 44 passengers can be accommodated in the upper deck cabin, with 26 outdoor seats aft. An additional WC is located in the aft end of the upper deck cabin.

Cobia also features structure for a lifting stern platform, allowing for the simple retrofit of such a feature at a later date.

The vessel is fitted with a pair of Yanmar 6AYM-GTE main engines, driving a pair of five-bladed fixed-pitch propellers. Capable of speeds in excess of 27 knots, Cobia easily achieved its loaded service speed of 25 knots at 85% MCR on recent sea trials.