Wallenius Wilhelmsen Zero Emissions Terminal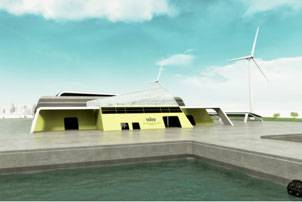 It is the ocean cargo terminal of the future, powered by the sun and wind. The futuristic terminal has no conventional power, uses no fossil fuels and releases no harmful emissions into the atmosphere. Named after an endangered species of beaver, Castor reflects the link between water and land and is the vision of independent shipping and logistics specialists, Wallenius Wilhelmsen Logistics.

The Castor Green Terminal includes a terminal and vehicle processing centre (VPC), which will handle products such as automotive, agricultural, construction, and other rolling equipment and offers services for receiving and delivery, cargo handling, storage, loading and discharging in a sustainable environment.

Coupled with E/S Orcelle, the company's visionary zero emissions concept cargo ship unveiled five years ago, the Castor Green Terminal embraces WWL's innovative vision of a more environmentally sound future for land and sea logistics operations. The energy used to handle each unit of cargo within the terminal complex will be reduced by as much as 80 per cent.

Wind turbines will provide the prime source of power for the Castor Green Terminal along with solar photovoltaic roof panels. The terminal will also be self sufficient for all its water needs – rain water collected from its roofs will be stored in underground tanks and then reclaimed. The Castor Green Terminal will be run on lean production techniques focusing on the elimination of waste and adding value during each stage of the cargo's movement through the terminal.

Energy usage will be further minimized by using wind for cooling and sunlight for heating and light and smart lighting sensors will ensure the maximum efficient use of electricity. Space requirements for the terminal will be significantly less than a conventionally-built terminal. For example, cars and small cargo will be stored in a multi level storage area supported by automatic lifting equipment and conveyer belts.

A processing center will provide technical services such as the fitting of accessories, painting, mechanical repair and pre-delivery inspection of vehicles. The location of the Castor Green Terminal will be based on detailed environmental studies of the local area, including potential impact on sea life, birds and animals.