Donjon Marine Recovers Robert R. Woodington Dredge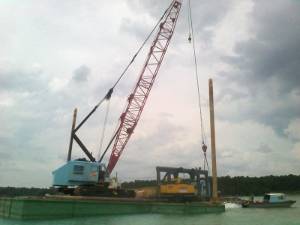 On May 20, 2011, Donjon Marine Co., Inc. contracted with the owners of the 42-ft cutter head suction dredge Robert R. Woodington to recover the cutterhead/ladder which was buried to a depth of 100 feet as a result of an underwater cave-in that occurred while recovering sand from an in-land sand pit. The cutterhead/ladder was covered by more than 70 feet of sand and clay mix.
Donjon's work plan was to mobilize a sectional barge equipped with a crane capable of handling a four cubic yard digging bucket, a 10-person salvage team including five salvage divers, and air-lift and jetting equipment. Through a combination of mechanical dredging, airlift/jetting and external lifting, Donjon was able to recover, free of damage, the cutterhead/ladder, ahead of schedule, allowing owners to quickly return the dredge to production activities.
"While not a typical marine environment, Donjon has again proven its ability to support the needs of the marine community with marine salvage services. Regardless of the situation, Donjon performs well under all conditions," said John A. Witte, Jr., Executive Vice President, Donjon Marine Co., Inc.