Former Seafarers Encourage Youngsters to Consider Maritime Careers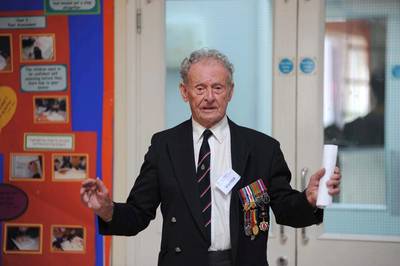 World Travel, Camaraderie and Exciting Voyages Characterise a Career in the Maritime Industry, but Employment Figures Show Disinterest.
A group of former seafarers encouraged youngsters to consider important professions in the Royal and Merchant Navy, on World Maritime Day on Friday 30 September. Residents at the Royal Alfred Seafarers' Society, a Surrey based home which provides dedicated accommodation and care to former seafarers and their dependants, said there is not enough awareness of the important role the Merchant and Royal Navy play in our society among the younger generation. Great Britain's maritime sector is the largest in Europe, yet when a group of 15 to 24 year olds were asked 'would you consider a career in the maritime sector?' only 12 percent responded 'yes', according to Sea Vision UK.
The Merchant Navy has kept citizens in the UK fed, clothed and equipped for over 200 years, not to mention being a lynchpin of the economy. Today 95 per cent of Britain's imports and 75 per cent of exports travels by sea. In addition to maritime defence of the nation and our interests worldwide, the Royal Navy also contributes to the stability, economic growth and development of the UK. Yet, despite this, career interest in both industries is dwindling with employment figures in the Merchant Navy dropping from 42,000 in 1975 to 23,000 in 2010. Eighty-seven-year-old Geoffrey Talbot is one of the Royal Alfred Seafarers' Society's longest-standing residents, having arrived in 1992. Originally from Clayhanger, a Staffordshire mining village, his remarkable life took him far from the landlocked Midlands, with a career spent largely at sea. He served first as a Royal Navy mechanic in Sri Lanka, partly in the jungle, during World War II. After he was demobbed, Geoffrey worked as a mechanic for FINA Petroluem, before joining the Merchant Navy as a ships radio officer, where he stayed for 41 years.
Captain Roy Davis, a resident at the Royal Alfred Seafarers' Society, worked in the Merchant Navy for 45 years and had some of the best experiences of his life travelling the world from Russia to South America, transporting all manner of goods from sheep to missiles. e says: "I rather think the maritime industry is a forgotten sector. When I went to sea the British Merchant Navy was the biggest in the world and in every single village there was at least a couple of people that went to sea. The opportunities are not broadcast as they used to be and young people are missing out on the travel, broadening their outlook and seeing how people in other parts of the world live."
Commander Brian Boxall-Hunt OBE, Chief Executive of the Royal Alfred Seafarers' Society, said: "Given the apparent lack of knowledge of the importance of the Royal and Merchant Navies among young people, we at the Royal Alfred Seafarers' Society are engaging with local schools, including St Anne's in Banstead, to hopefully encourage some young people to consider a career in the maritime industry. In the communal areas of the home I hear some fantastic stories from people that have served in both the Royal and Merchant Navy and the camaraderie is incredible. It seems a shame for youngsters to miss out on that through lack of knowledge." orld Maritime Day, on 30 September, is organised by the International Maritime Organisation and focuses attention on the importance of shipping safety, maritime security and the marine environment. For more information on a career with the Merchant or Royal Navies please visit http://www.careersatsea.org/ or www.royalnavy.mod.uk.
The Royal Alfred Seafarers' Society is a registered charity and was established in 1865. It is incorporated under Royal Charter, with HRH the Princess Royal as its patron. The Society's primary aim is to provide accommodation, care and support to former seafarers, who may need special help and like-minded companionship in their old age due to the isolated nature of their careers. Under the Royal Charter, 'seafarers' include Merchant Navy, Royal Navy, fishermen and port workers, as well as their widows or dependants. The Society also welcomes residents of non-seafaring backgrounds when able to do so.