Becoming CII Compliant with Digital Technology
Are you prepared for the upcoming CII rating scheme?
As the Carbon Intensity Indicator (CII) rating scheme comes into effect in 2023, digital technology becomes vital to shipowners and operators wanting to improve their environmental performance and remain compliant.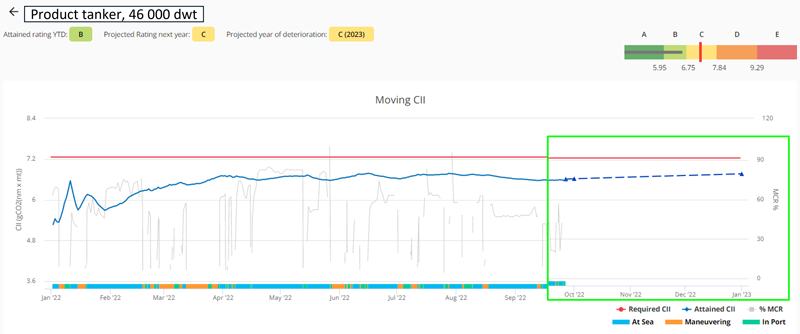 CII Simulation for End of Year with operational pattern predictions

To help the shipping industry make the right operational decisions for minimizing its emissions, StormGeo offers a range of digital solutions for modern shipowners and operators aiming to decarbonize their operations.

One of StormGeo's latest additions to the decarbonization toolbox is the CII Simulator – a solution designed to support shipowners and operators in improving environmental numbers, reaching decarbonization targets, and meeting commercial obligations.

The simulation tool, which is a part of StormGeo's s-Insight Environmental Performance module, performs the necessary calculations and provides the visualizations needed to understand the commercial impact of the CII.

Future-proofing Vessels and Voyages with CII Simulations
StormGeo's CII Simulator is a dynamic tool helping shipowners and operators take prescriptive actions to reach decarbonization goals, monitor CII compliance status, and reveal the impact of commercial parameters on CII ratings.

The simulator assesses environmental performance and efficiently computes the compliance status of vessels based on validated and verified data transferred from ship to shore. Users can enter the desired CII rating for a specific voyage, which prompts the simulator to calculate the necessary speed for the upcoming voyage to reach the desired CII value.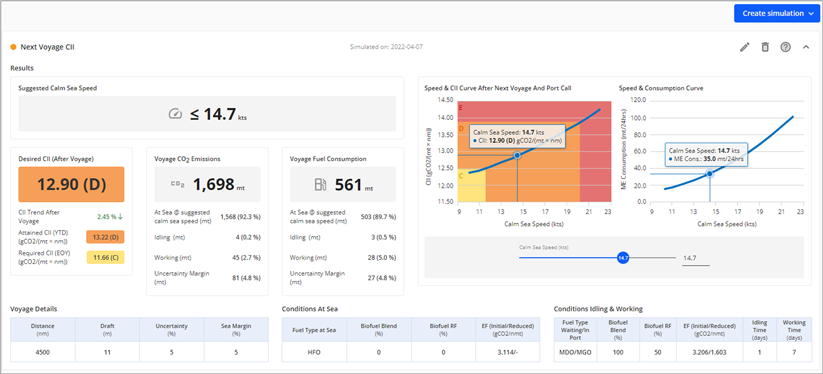 CII Next Voyage

Furthermore, StormGeo's CII Simulator can also predict the CII End of Year (EOY) based on the vessel's expected operational pattern and even forecast next year's CII rating. This promotes a deeper understanding of the vessel's carbon intensity and provides decision support to drive operational measures to meet both environmental goals and commercial obligations.

Become CII Prepared Today
Several shipping companies have already adopted StormGeo's CII Simulator. Right after the product launched, for example, it was announced that the Norwegian pool operator Hansa Tankers planned to roll out the CII Simulator to assess and improve the environmental performance of its fleet. And the numbers have increased steadily since then. Today, nearly 1,000 vessels rely on StormGeo for CII simulations.

The CII rating scheme is just around the corner, and shipowners and operators should act now. The earlier one integrates CII simulations into one's daily operation, the easier it becomes to prepare for, assess, and manage one's CII ratings.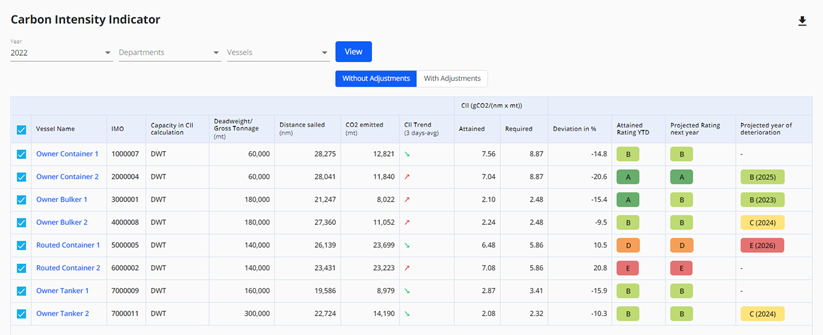 Fleet Overview