Extend cylinder liner lifetime with 20 years
Why purchase new liners when you do not have to?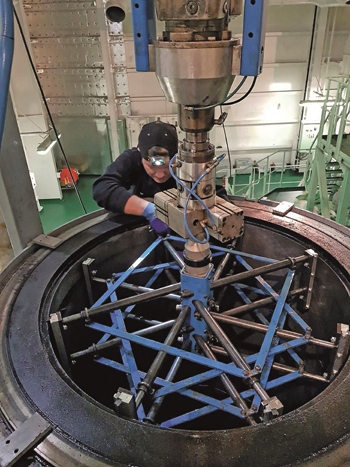 Extend the lifetime of your cylinder liners with 20 years.
Why purchase new liners when you do not have to? Correct and regular monitoring & maintenance significantly cuts liner cost and is a more environmentally friendly alternative.
Following the introduction of the low-S legislation, many shipping companies are facing huge challenges with the condition of their cylinder liners. They report increased liner wear and piston ring wear, which of course is of concern when it comes to liner life expectancy. In addition, the Covid-19 virus has had a severe impact on movement of people and goods worldwide. Getting access to engine maintenance experts and equipment when needed has proven very difficult for many companies.
During challenging times companies and individuals find ways to collaborate and support each other. Chris-Marine can provide engine maintenance equipment for sale or rental and we can assist ship owners and ship managers with training & support remotely. We are happy to share our expertise when it comes to Cylinder Condition Monitoring & Reconditioning.

Learn how to extend the lifetime of your cylinder liners and download brochure: (Make sure your 2-stroke engines are ready for the 2020 low-S challenges | Chris-Marine (chris-marine.com))

View our new fully automatic honing machine for 2-stroke engines:
Honing Machine / HON 2A | Chris-Marine (chris-marine.com)

Contact details:
Daniel Grunditz, Chief Technology Officer
Chris-Marine AB
E-mail: info@chris-marine.com
Tel: +46 40 671 2600