Maritime Videos Exxonmobil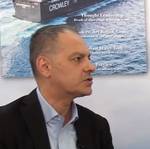 Exxon Mobil's Steve Walker and Luca Volta discuss marine lubricant developments to address new IMO2020 fuel rules.
Iain White discusses how ExxonMobil oil test technology provides rapid feedback for lube oil optimization.
At the SMM 2016 in Hamburg, Germany, Maritime Reporter TV's Greg Trauthwein, Editor and Associate Publisher of Maritime Reporter and Engineering News, interviews Timo Koponen, Vice President, Flow & Gas Solutions, Gas and LNG, Wärtsilä. Mr.