Maritime Videos Repair
Dr. Ralph Petersen, Managing Director of Blohm+Voss discusses investment and success in a challenging market.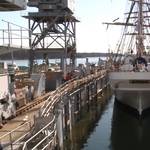 Time-lapse video shows America's Tall Ship being refloated in drydock following life extension work. The U.S. Coast Guard's 81-year-old Barque Eagle departed floating drydock on February 27, 2018, following completion of a four-year life extension project.