188-Car Ferry Walla Walla Returns to Service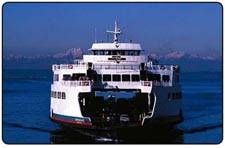 The 188-car returned to service on the Edmonds/Kingston ferry route on Oct. 17. The joined the 188-car , returning the route to its usual vehicle capacity. The 144-car Hyak has been on the route since Oct. 7 while the was out for necessary repairs.
The 's return will free the Hyak to return to the Seattle/Bremerton route, so the 144-car Kaleetan can go into WSDOT's Eagle Harbor Maintenance Facility for its required annual inspection.
WSDOT Ferries Division removed the from service on Monday, Oct. 6, after a planned inspection revealed damage to a thrust bearing, a major piece of equipment on the vessel. To repair the thrust bearing, crews had to cut a hole in the car deck; remove a six foot long shaft weighing two and a half tons; send it to a machine shop for repairs, then reinstall the shaft and put the vessel back together.
The ferry system currently has no back-up vessels, so when emergency repairs are needed, vessels must be repositioned to serve customers system-wide. This situation is intensified during the winter maintenance season, when more vessels are in WSDOT's maintenance facility or commercial shipyards for annual maintenance and inspections.