2nd National Security Cutter Builder's Trials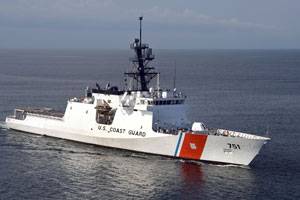 The Northrop Grumman Corporation-built (NYSE:NOC) National Security Cutter Waesche (WMSL
751) completed successful Builder's Trials on August 17 after undergoing rigorous testing in the Gulf of Mexico. The ship's return to Northrop Grumman Shipbuilding's Gulf Coast facility here following trials marks the latest milestone for Waesche, which is nearing completion.

Waesche is the second ship in the new class of highly capable, technologically advanced multi-mission cutters. The NSC was built under contract from Integrated Coast Guard Systems, a joint venture of Northrop Grumman and Lockheed Martin.

"The effort put in by everyone to get the ship here is astounding," said U.S. Coast Guard Capt. Jim Knight, commanding officer, project resident office. "We are going to be delivering a platform that is mission-ready."

During the trials, extensive testing of propulsion, electrical, damage control, and combat systems was conducted. The ship will return to sea in September for her acceptance trials and will be delivered to the Coast Guard this fall.

The Waesche's keel was laid Sept. 11, 2006, about six months after first-in-class Bertholf's keel was laid. Waesche was christened July 26, 2008.

The NSC is a 418-foot vessel with a 4,480 ton displacement at full load powered by a combined diesel and gas turbine power propulsion plant driving twin screws with a maximum speed of 28 knots. The cutter includes an aft launch and recovery area for two rigid hull inflatable boats, an expansive flight deck able to accommodate a range of rotary wing manned and unmanned aircraft and state of the art command and control systems. In addition, the cutter features improved habitability and a sailor-centric design to facilitate optimized crewing and, enhance onboard quality of life for a mixed gender crew.