More Countries to Gather for Posidonia 2008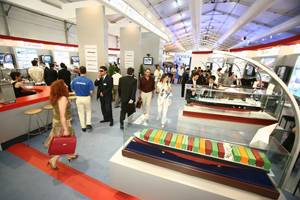 Posidonia has set another milestone in its 40 year-long history by registering the highest number of participating countries than any other international maritime event for its 21st edition, to be held in in June.
In addition to an increase from participating companies from established maritime nations, companies from the Central American Republic of Honduras, , Luxemburg and are making their Posidonia debut this year further increasing the total number of participating countries to almost 80, setting a new show record and reiterating the event's status as the world's most international shipping trade fair.
And this year's event is also inching closer to yet another landmark for the most national pavilions ever fielded at Posidonia with Romania, Argentina, Sweden and Honduras bringing the total number of national pavilions to 22, confirming the event's truly global appeal and increasing commercial credentials as the ultimate business-making forum for the world's shipping community. Looking eastwards, Posidonia 2008 has already confirmed the strongest exhibitor participation from Asia and the Far East than any other major trade shipping event held in Europe or , testimony to the show's unique positioning as the world's most sought-after maritime forum.
Participation from Asian exhibitors for this year's edition has grown in accordance with the region's increasing wealth.
Over 300 Asian exhibitors have confirmed their presence at the Athens International Exhibition Centre this summer, nearly three times the number that attended the 2000 event. A third of them will come from and 62 from , with and together accounting for 50% of 's total Posidonia 2008 exhibitor participation.
Traditional Posidonia independent participants Tsuneishi and Cosco will this year be joined by 's STX with its own standalone pavilion as 's shipbuilding sector flexes its muscles in its bid to impress the burgeoning spending power of the Greek shipping powerhouses, which control the world's biggest tanker fleet and almost a fifth of the overall industry's dwt.
Posidonia 2008 is sponsored by the Ministry of Mercantile Marine, The Aegean and Island Policy, the , the Hellenic Chamber of Shipping, the Union of Greek Shipowners, the Greek Shipping Co-operation Committee, the Mediterranean Cargo Vessels Shipowners Union, the Association of Greek Coastal Shipping Companies and the Association of Greek Passenger Shipping Companies.