Bollinger Receives Safety Award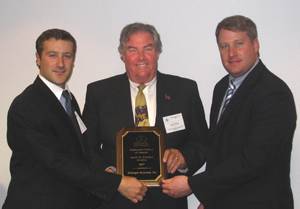 Bollinger Shipyards, Inc. has been presented the Award For Excellence In Safety by the Shipyard Council of America (SCA). The award was presented during the association's April 7, 2008 general membership meeting held in The Award For Excellence In Safety is given to member companies who have an end-of-year Total Recordable Incident Rate (TRIR) that is below the total SCA rate. In 2007, SCA members set their lowest rate ever with a TRIR of 5.86. Bollinger's rate for 2007 was 3.20.
The award was presented to Donald "Boysie" Bollinger, Bollinger Shipyards' Chairman and CEO, who accepted the award on behalf of all of the workers at Bollinger. "This is the result of Bollinger employees staying focused on safety and watching out for each other, and again their efforts have been noticed by the shipbuilding/repair industry," said Bollinger. "Thanks to our dedicated employees, Bollinger Shipyards remains one of the Safest Shipyards in ".