Titan Refloats Ferry Arcangel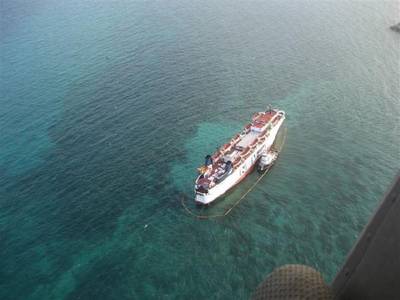 Titan Salvage has srefloated a ferry, once grounded in a lagoon just north of and redelivered to its owners. The Arcangel, a 350-ft. ferry that was no longer in service, was docked at Puerto Morelos when it was blown about a half-mile off its mooring during a severe winter storm in November 2007. A 10-man team, which included Titan salvage specialists and local Mexican labor, were contracted and began the salvage job on May 19, and the work was concluded a month later.
According to Todd Busch, vice-president of Titan, the Arcangel salvage project posed serious environmental concerns - all of which were successfully addressed by his team of salvage experts.
The Arcangel was grounded on a fringing reef near a major barrier reef inside a national marine park.
Before using their Titan pullers, or hydraulic linear pulling machines - the salvage team had to do some patching of the hull and transfer oil and waste water from the vessel to containers inside a barge to prevent any contamination in the environmentally-sensitive area. The team also had to transfer the ballast and remove some of the heavier items from the vessel. All these tasks were necessary to lighten the vessel and provide as much buoyancy as possible.
Salvage Master Colin Trepte directed the salvage team as they moved the vessel to a pier nearby Puerto Morelos. The team stabilized the vessel and redelivered it to its owners. Rich Habib, director of salvage, and Mauricio Garrido, director of business development, were also on-site to support salvage operations.