Drydocks World – SE Asia Expansion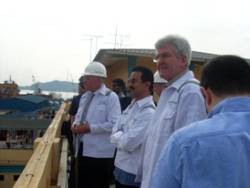 Sultan Ahmed Bin Sulayem, Chairman of Dubai World, one of world's largest holding companies, visited the Nanindah and Graha shipyards last week, at Batam in Indonesia and Singapore, which are part of Drydocks World SE Asia, the recent addition to Drydocks World, the group's global ship building, repair and conversion arm.
The visit was part of an inspection and review tour to evaluate progress achieved by these shipyards and to study the prospects of expanding Drydocks World SE Asia's operations in the region. Mr. Bin Sulayem was accompanied by senior officials of Drydocks World and a team of journalists from UAE.
Drydocks World – SE Asia was formed in March 2008 to manage the shipyards Drydocks World acquired in Asia, primarily in and . It now operates four yards acquired after signing deals to buy Pan-United Marine and Labroy Marine in 2007.