CNO Participates in Seapower Symposium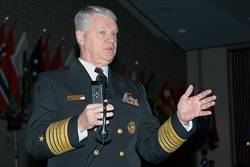 More than 200 delegates representing 100 countries attended the largest The Chief of Naval Operations (CNO), Adm. Gary Roughead, participated in the 7th Regional Seapower Symposium for the Mediterranean and Black Sea Countries Oct. 15-17 in .
The symposium's theme of "Navies Promoting Dialogue & Cooperation in a Comprehensive Perspective," is similar to the maritime strategy with its emphasis on the importance of enhancing cooperation and building partnerships with maritime partners.
Roughead said the symposium allows maritime chiefs to discuss ways navies and maritime organizations of the world can work more closely together and share information that makes that cooperation more effective.
Roughead interacted with leaders from nearly 40 countries in the region including members of NATO and other world and regional agencies. He stressed that capacity is what gives navies the ability to be forward, the ability to respond rapidly with credible combat power.
During his remarks to the international maritime leaders, CNO discussed several examples of the cooperation among all the countries, including their participation in joint training exercises at sea and information and personnel exchanges. He said whether it is maritime security operations, information sharing or combat operations, he strives to ensure the Navy's systems can work in concert with those of our friends, partners and allies.
(Source: Navy News Service)