M2 Motor Yachts Introduces the M257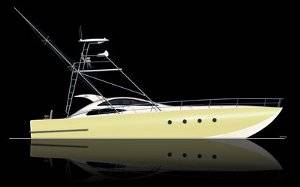 Power catamaran builder M2 Motor Yachts is introducing the M257, a 57 ft sportfishing catamaran. With a base price just under $3.5m, the boat will be standard-equipped with Man R800 engines capable of producing a top speed of 58 knots, with a cruising speed of 45 knots. Delivery time will be approximately nine months from order.
"In offshore fishing, speed and stability are two keys to a successful boat and tournament campaign. Our new 57 will give the team that wants to win the best opportunity they have ever had," said M2 Motor Yachts CEO Paul Mihailides. M257 Custom Carbon Fiber/Kevlar Sportfishing Catamaran Specifications:
Length, o.a. 57 ft 10 inches
Beam 16 ft 11 inches
Draft 3 ft 6 inches
Dry Weight 38,000 lbs
The M257 base price of $3,447,000 includes the following:
R800 Man Diesels - cruise speed 45 knots (60gph). Maximum speed 58 knots (80gph).
Drive Systems: surface piercing, IPS or direct.
Standard stainless steel, 600-gallon fuel tanks. Cruising range 472 miles.
Full Raymarine or Furuno dual station electronics.
Custom tower.
Release Marine or Murray Brothers fighting chair.
Release Marine or Murray Brothers helm chairs.
Lee outriggers.
The cockpit layout, interior, finish and primary fishing gear will be customized to the owner's specifications.
M2 Motor Yachts currently builds the M2 21 in fishing and tender versions and the M2 60 Express Cruiser.