Kelly, Jo-Kell CEO Receives Award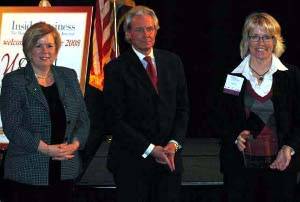 Suzy Kelly, CEO of Jo-Kell Inc., received Inside Business's 2008 Women in Business Achievement Award. The award was presented at a luncheon on December 15th at the Norfolk Waterside Marriott. Jo-Kell is an electrical distributor and solutions provider servicing the military, commercial marine, and industrial marketplace.
Kelly is involved locally in Lead Hampton Roads and the Chamber of Commerce. On a National level, Kelly is the Mid-Atlantic regional vice chair for the Aircraft Carrier Industrial Base Coalition and founding partner in Women Impacting Public Policy. She is also responsible for implementing LEAN principles at Jo-Kell. LEAN incorporates principles of identifying value, eliminating waste, and improving processes.
Kelly's service to the community also includes: The Chesapeake Police Department Advisory Board; Rotary Club of Chesapeake; Co-founder of Leadership Chesapeake and Board Member of Norfolk Collegiate School. In addition to her service on community boards and committees, Suzy is also a regional keynote speaker in disaster preparedness for the workforce.
She has made presentations including: Taking Care of Business, Organizational Survival Workshop for Pandemic Flu and Disaster Preparedness.