Boatsense Remote Vessel Monitoring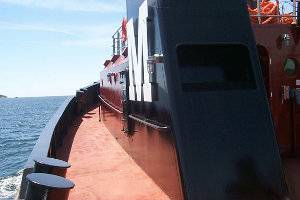 Boatsense Solutions, Inc. announced that it recently installed its wireless remote vessel monitoring system on several Moran Towing Corporation's tugboats. Moran maintains three major lines of business: shipdocking, contract towing and marine transportation. Approaching its 150th anniversary, Moran operates in 16 ports with a fleet of tugs and barges.
Separately, Boatsense announced a recent installation of its remote monitoring system on the 767 ft Str. Kaye E. Barker. Owned and operated by The Interlake Steamship Company, the Kaye E. Barker's bilge and power is remotely monitored by Boatsense. Founded in 1913, Interlake owns and operates 10 ships on the Great Lakes.
Boatsense's technology enables these owners and managers to remotely monitor their assets, and alerts them of conditions that require attention before incurring
significant loss or damage. The Boatsense device is connected to and monitors key systems including the boat's position based on the Global Positioning System (GPS). The device is programmed and sends alerts through the Boatsense Monitoring Network using the Simple Messaging Service (SMS) that is now universal on cellular phones worldwide. With Boatsense, the boat is continuously monitored and the owner, marina management and other groups are able to receive alerts.
Boatsense Solutions was founded in 2005 by two Maine Maritime graduates. Boatsense products are available through Hamilton Marine at www.hamiltonmarine.com.