Trinity Yachts Delivers First of Two Patrol Craft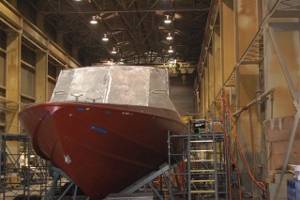 Trinity Yachts, L.L.C., through its wholly owned subsidiary, Trinity Offshore, L.L.C., has delivered the first of two aluminum 82 ft. patrol craft it is building in New Orleans under a sub-contract to United States Marine, Inc., (U.S.M.I.) of Gulfport.
The craft design is similar to those built for United States Special Operations Command (SOCOM) in the late 1990's by the Trinity Marine Group. These vessels are still in service today. The first hull was recently delivered to U.S.M.I. for outfitting and the second hull is scheduled for delivery to U.S.M.I. in late March 2009. Both boats shall be delivered to United States Naval Sea System Command by the third quarter of 2009.

The craft is powered by two MTU 12V396TE engines with ZF-4640 marine gears with two Rolls Royce/KaMeWa 50S-II water jets, with emergency steering. The craft's cruising speed will be approximately 35 knots with a maximum speed of 47 + knots. The range at cruise speed will be 500 + nautical miles. She will be able to carry a variable payload of 6,500 lbs. The vessel's accommodations include shock mitigating seats for five crew and up to sixteen additional passengers. The craft is outfitted with foundations and mounts for a variety of weapons systems.
According to John Dane III, President of Trinity Yachts, L.L.C., "We are very excited about this contract. It is the first of a new series of aluminum patrol craft for Trinity and we are also happy to be working with U.S.M.I. on the project. This contract provides an opportunity for Trinity to return to its past as a builder of patrol craft at its New Orleans facility which was famous as the Higgins Facility building landing craft, PT boats and other naval craft during World War II."